School Resources
Teacher and Parent Resources
Protecting our region's children is a key focus of the Look Out Texans campaign.
Free school kits include resources to educate elementary and middle school-aged students about pedestrian and bicycle safety.
School kits for 3rd-5th grades and 6th-8th grades were created with input from North Texas educators. The teacher guides/lesson plans reflect Texas Essential Knowledge and Skills (TEKS) standards for physical and health education through the following materials:
Teacher guide/lesson plan
Online instructional videos for the classroom
Safety knowledge and skills quiz
Classroom activities
Student safety pledge
Safety tips for parents and caregivers

Lesson plan videos, classroom materials and safety tips for parents and caregivers are also available in Spanish.
Look Out Texans – Bike, Walk, Drive Safely launched in October 2015. The campaign encourages North Texans to watch out for one another and offers specific tips to bike, walk and drive safely together.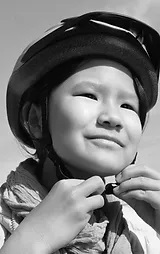 Educators
Let us know what you think of the school kits by completing the brief survey
Parents/Caregivers
Contact us at info@LookOutTexans.org with questions or feedback
Lesson Plan Extension
Walk This Way: Pedestrian Safety for Young Children video from Pennsylvania Department of Transportation
Lesson Plan Extension
Safety Bling! Bicycle Lights and Helmets video from Texas Department of Transportation
Lesson Plan Extension
Awareness and Left Turns for Cyclists video from City of Edmonton Lego
Lesson Plan Extension
Riding and Driving to Safety video from City of Edmonton Lego
Lesson Plan Extension
Bike Attitude video from City of Edmonton Lego